Hi, i'm new to freesbc. In my initial configuration i managed to configure 2 NAPs, private and public open NAP. I use the private NAP to connect asterisk and the public open NAP to receive calls and registration from internet, relaying them to asterisk. The configuration works for the registration part but for the call i noticed a strange behavior. In some calls i hear no voice at all, while in others everything works fine.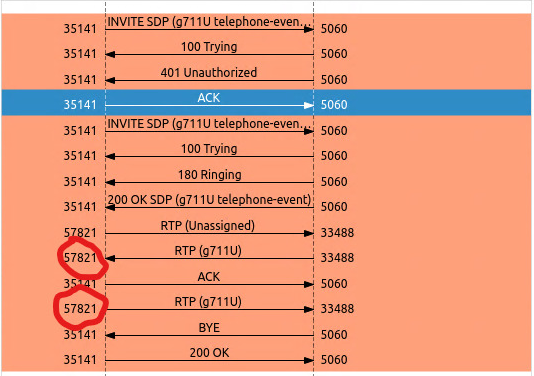 I made a capture of both calls. As you can see from the screens, the remote endpoint of calls with no voice, communicate with sbc on 2 different RTP ports. What are the possible causes of this behavior?
Thanks

cristiano




Number of Messages

: 1


Point

: 3


Registration Date

: 2023-02-08



Hi

You can check the following link for the RTP problems:

https://docs.telcobridges.com/mediawiki/index.php/SBC_Troubleshooting#One_Way_Audio.2F_No_Audio_Problems
It is normal to use different RTP ports for each call. If you use same port for all calls only one call can get RTP the others cannot.

Did you check the SDP parameters for both ends? If the Connection information is different than the source IP address, that means the far end behind the NAT and you need to set the NAT options for that NAP.
---
Permissions in this forum:
You
cannot
reply to topics in this forum